April 2020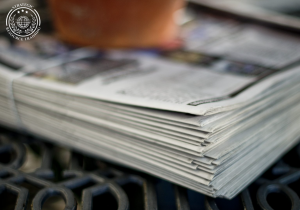 What a different world we are writing to you in from this month's Bulletin.
So much has been written, spoken and shared on various mediums and platforms over the last few weeks that at times, it can be very overwhelming. We have chosen as a family to turn the "volume down" more than once over the last several weeks, to allow space for the processing involved in such a time and for the biggest voice in our head and heart to be the Holy Spirit.  It is not an easy task and one I am sure that many of you and many people you are in community and fellowship with, are feeling too.
For many people, and in particular many woman, their worlds have just become a whole lot busier.  Much has been spoken of this great time of staying home, resting, doing things differently, and for people, (such as David, Bruce and Dennis), this season has been a true blessing in that they have been released from the huge international travel requirements of their work, both vocationally and ministry wise.  For the first time in our almost 30 years of marriage, David is not only dwelling in the same country as his family for months on end, he is dwelling in the same house! It is a true joy to him and blessing to us all.  However, we know for so many others, this joy and blessing is not their experience right now.  Many we know are out of work and have been so for several weeks already – with no real prospect of re-engagement with the work force any time soon. Many are isolated from friends, family and all relational contact.  Many are sick and suffering in solitude with no relief in sight. Our prayers are with all those that are suffering right now.  May the truth and blessing of Matthew 5:4 – "Blessed are those who mourn for they will be comforted", be experienced by millions of people the world over during this time.
Families in our communities, with the exception of those we know who like us are currently homeschooling their children, all of a sudden, have their whole worlds turned upside down in multiple areas and many have their children with them 24/7.  Whilst this has been my world for nearly 26 years, I am still very aware of all of the emotions that the early stages of our walk in this area produced in me and feel a great burden to encourage and come alongside these families that find themselves in a state of being overwhelmed with what is before them now.  Ours was a choice to home educate our children, it is not the choice of millions of families right now across our nation and globally.
If this is you, or you know someone who is falls into this category, may I offer a few words of encouragement to you in this season that hopefully may help put you at ease for what is before you and help you to "keep the main thing, the main thing".
Before you do anything (ranging from panicking to organizing with great gusto) – seek the Holy Spirit for His wisdom, leading, truth and way in this time. Reading all of Matthew 6, culminating in: Matthew 6:33 – "But seek first the Kingdom of God and all of these things will be added to you".  I used to be a master at grabbing the bull by the horns, making lists, planning and setting in motion my plans, then asking the Holy Spirit for His leading.  I could also pendulum swing into a great state of fear which would completely paralyze me – especially when I felt under pressure.  Both ways are ultimately fruitless, more importantly, it is not "the way of the Lord".  Seek Him first, for all that is before you.  He will answer us and direct our steps, of that we can be certain.
One of the most terrifying aspects of having our children with us 24/7 is that there is no hiding from the gaps in their lives and the gaps in our own. Over the years, nothing has produced more pain and suffering and fear in me, than when I have seen those gaps and not been able to work out what to do with them.  One of the greatest pieces of counsel I have received in this area was from Dennis Peacocke through the Living Life God's Way series, where He shared that Father will only work in 1 or 2 areas in our lives at a time.  What a gift this counsel was.  It released me from the burden of having to address all of my gaps and all of my children's gaps all at once (like that would have worked anyway).  It sent me right back to Matt 6:33 – seeking the Lord first for where He was working in my life and where He was working in my children's lives – allowing Him to direct all of our steps.
Father works through jurisdictions or government in our lives. One of the greatest enemies to our self-government and indeed our family government are distractions and our self-imposed/allowed busyness.  Often these distractions are a welcome respite from the chaos of our lack of Godly government not only in ourselves, but in our families.  All of a sudden, thanks to COVID-19 – many or most of these distractions have been removed from our lives.  We have an incredible opportunity here to "reset" (plagiarizing Dennis from his latest Bottom Line edition), not only our lives but the lives of our families in this season.  "This too shall pass;" we can be sure.  In the passing, what Kingdom wealth and Kingdom ways will we be able to secure not only in our own lives, but the lives of our children?  This is probably the greatest question we can ask of our Lord and of ourselves in this season.
My prayer for us, for what is before us all, no matter our circumstances, is that we are able to turn to our loving Father and seek His will and His way for our lives in all jurisdictions, in particular our personal and family journeys with Him.  May we come out of this COVID-19 season, into a forever changed and transformed reality.  Maybe some of our pre-COVID ways will fall back into place as they should.  Maybe, some will be replaced with a greater aligned Kingdom purpose.  God knows, for which we can be truly grateful.
God bless you,
Natalie Holmyard
Here is our note of encouragement from Bruce to us all. 
I want to thank a mentor of mine, Mike Garland, for such a stimulating and inspiring conversation around a Godly response to the C virus issue and what it can offer us. It is from this conversation that this article has been birthed.
Let me start by stating the obvious – God is still God. He was during the bubonic plague, the Swine Flu – the first and second world wars and every other catastrophe that humanity has been ever assailed with. He rules and He reigns as much today as He ever did, and He will cause this to work together for good for those who love Him and are called according to His purpose (Rom 8:28).
A great question to ask in the current situation that we all find ourselves in today is, "what is the most appropriate Kingdom response we can make?" Among other things it is certainly an excellent time to bring a lot of things before God. It is time to be grateful for the Sovereignty of God and express our love and concern for others, rather than just considering our own self-protection. Phil 2:3-4 tells us to
V3 – Do nothing from selfishness or empty conceit, but with humility of mind regard one another as more important than yourselves;
V4 – do not merely look out for your own personal interests, but also for the interests of others.
This is now critical for the peace and well-being of those we are in the company of (24/7 in NZ), and those whom God has joined us to. Everything is now going to be different – for how long, only God knows. It is a given that we should follow all practical advice and comply with whatever our respective authorities are trying to achieve during this time. It is not a time to be foolish. If you follow SRT Restorers, you will see an excellent comment from Martin Luther advising people how to respond during a severe plague in his time – it contains a good balance of faith and common sense. For those who may have missed it, I have posted at again, at the bottom of this article.
The great poverty of the abundant Western World is time. So many of us have everything in abundance yet we are time poor. We rush and fuss and live on adrenalin. Well, for the next four weeks, in NZ at least, this lack has now gone. We have been given a very generous, albeit enforced, allotment of time. For some of us, this may be more than we have ever had in our adult life. The question is, where are we going to use it for the glory of God?
Make lists and set goals by all means. But don't make yourself "time poor" again by setting goals that would take a huge amount of time to achieve – probably more than four weeks. This defeats the whole purpose of this season. It is great to be busy, however, may we all find a good rest/work balance. We may never get a chance like this again.
Whatever you do over this next period of time, strive to make life better for yourself and those around you, be of good cheer, practice patience, love and charity and enjoy our wonderful Saviour and those He has placed you amongst.
God bless you,
Bruce Billington