Bulletin September 2021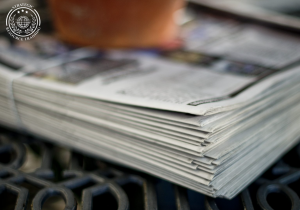 by Bruce Billington
Standing in the Faith
I came to Christ at the heart of the Charismatic/Pentecostal movement and remain very grateful for that. I constantly seek God for miracles, signs and wonders and will never cease to do so.
However, over the last twenty years or so it has been hard to endorse so much of what has been happening from these movements or cultures. Some of it, as the recent U.S. elections show, has been nothing less than embarrassing. In recent times I have been reading about many prominent leaders or authors who are leaving the faith, and many are very outspoken against it. This is not to slander anyone but some of the names who have themselves gone very public are Paul Maxwell, Joshua Harris, Marty Simpson; Jon Steingard and Abraham Piper. You can read their stories on the Web.
This begs the question "how can this be?" I can produce my own list of many leaders and folk who were well established in their faith, some whom I worked with for several years, who have now drifted away after years of serving the Lord. Although it is too easy to be judgemental I cannot help thinking of what Isaiah said, Isaiah 29:13 – And the Lord said: "Because this people draw near with their mouth and honor me with their lips, while their hearts are far from me, and their fear of me is a commandment taught by men."
The point I want to make is that we have not worked hard enough on ensuring that people are having true encounters with God and are connecting with Him on a daily, whole of life basis. It is not enough just to like the idea of God, or to see the Christian faith as an opportunity to become someone with a new purpose in life. It has to be based on a complete surrender to Jesus Christ and a focus on Him being Lord of all rather than just Saviour.
We can assess this because all who do so are in a constant process of transformation. They are growing and maturing in their faith – ever pushing further into God, constantly encountering Him, and often being challenged by Him. But this is not a "them" statement. It has to first be a "me" statement. Am I there? Do others see this fruit in my life – especially those close to me? Does Jesus find this in me?
It is too easy to learn the right things to say and how to respond in certain situations – but is that really me, or just a culture I have learned to embrace? How does my life reflect my love and passion for God and His Kingdom when I am alone and having time out? How does it impact the real me?
Over recent years, I have drawn back from social media. Yes – I am still on Facebook but mainly to have fun and pursue my hobby of photography. To be honest, I have tired of the endless talk, poorly researched opinions and demands to conform to "Christian" opinions that are more based on dualism, humanism and atheism (which was my background) than the Kingdom of God. I have withdrawn from the endless debates that never went anywhere. To be honest, I found they fed a part of me that was catering to my fallen nature, (my love of debate) not my redeemed nature.
Sorry if that sounds ugly – but if you are reading this it is highly likely that you are a friendship that I cherish, so don't take it personally – see it as some advice I am trying to offer.
What we must return to, is a silent awe of God that penetrates all that we understand about life on planet earth and is expressed freely in all situations. If we are truly grounded in the faith, God must define us, not just influence us. Back to Isaiah – having a fear or reverence for God is something we live, not a behaviour we have learned. He is loving and gracious, but also fearsome, holy and righteous.
As well as being the Lamb that was slain, Jesus is also the Lion of Judah and it is the Lion who is coming back to earth, not the Lamb.
I tend to agree with many in the Western world who are telling us that persecution is going to get worse. Society is becoming less and less tolerant of those who truly express the Christian faith. In order to endure stand strong in such an environment, we are going to have to truly know who our God is and how make a stand in a world that becomes increasingly hostile to us. At this point, only those with a true faith will make it through. In fact, more than that – they will be overcomers.
1 John 2:14 – "I have written to you, fathers, because you know Him who has been from the beginning. I have written to you, young men, because you are strong, and the word of God abides in you, and you have overcome the evil one."
God bless you.
Bruce Billington.