Bulletin December 2021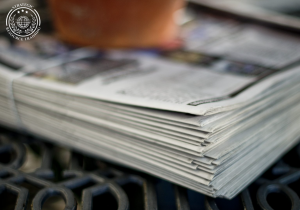 by Bruce Billington
Rest Amidst the Storm
The opening words of Psalm 23 become especially important at this time of the year.
"The LORD is my shepherd, I shall not want. He makes me lie down in green pastures; He leads me beside quiet waters. He restores my soul; He guides me in the paths of righteousness For His name's sake." Psalm 23:1-3.
I always know when we are coming to the end of the year. It is because I become aware that I need a longer time of rest and refreshing than my normal one day off per week provides. However, a key purpose of it is to recharge my batteries for another busy year to come. The word that is on my heart for 2022 is Zechariah 8:23-24. It says,
"So many peoples and mighty nations will come to seek the LORD of hosts in Jerusalem and to entreat the favor of the LORD.' "Thus says the LORD of hosts, 'In those days ten men from all the nations will grasp the garment of a Jew, saying, "Let us go with you, for we have heard that God is with you."'"
This passage begins with us living out of a deep relationship with God which is applied to every aspect of our life. But the witness, which is going to be so eagerly sought after, will be empowered when people see this way of life being demonstrated in the real world.  At this point, they are going to want to join with us and participate in the blessing we are living out of.
As my friend Gerald Chester says, we will become contagious, in a very godly way.
This is going to come at a cost. The enemy will not like it and nor will a lot of people that he influences, whether they know that or not. As has become so evident over 2021, the attempt will be to disempower us, marginalise us, and discredit us.
However, we must not fear this. Here is a quote from an article written by Micheal Pink that is very appropriate for our time today. "There's a rampant fear growing on the Internet – and this time the church is one of the biggest purveyors of it. Instead of appealing to the flesh, it appeals to our fears, creating a fear-based way of living that renders its victims impotent as God's agents of change and messengers of hope in the world." 
We should not and must not fall victim to this. The promises of God, that we shall be overcomers, that those who stand against us will fall and that His Word and His ways will prevail, are written all over Scripture along with the fact that He cares for us and will never abandon us, despite what may confront us as we take a stand for Him.
Along with this, God promises to give us wisdom – the type of wisdom that is only granted to those who fear God. This is a powerful tool, which, when applied in the way the Holy Spirit leads, totally disempowers the arguments that are put up against us and our efforts in shaping society in the way the Lord intended it to be. This will be a major focus of the season we are now in.
It is a call to war and one that we all must participate in, in our own unique ways. We need to be very focused, both with an awareness of what is happening and what God requires of us to do about it.
My advice to all those who live in the Southern Hemisphere (where we celebrate Christmas and then take our summer break), to get some rest, have fun, take some time out for yourself, but also take some time to prepare yourself before the Lord for the season we are now living in. It is not going to go away or ease up. Society has the pedal to the metal, in its attempts to break away from its Biblical foundations and this is a call to action for all of those who see themselves as true disciples of Christ. We must not stand by idly and let this happen.
Thank you so much for your love, support and participation in all that we are doing to rebuild the ancient ruins; raise up the age-old foundations and restore the streets in which we dwell.
We at Strategic Resource Training have great plans for 2022 after a break over January. We are excited about the opportunities that are available to us. We will keep you informed.
Both Linda and I and the Strategic Resource Training team wish you a wonderful blessed Christmas and a very productive New Year.
Love and blessings.
Bruce Billington