Bulletin February 2022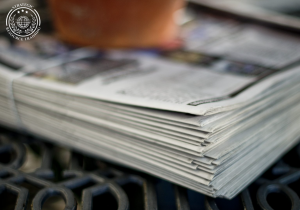 by Bruce Billington
Let's Go
Welcome to 2022. I trust many of you had a good break and are ready to embrace all the Lord would have for you in 2022. It would be good to start the year off right so let's get straight into His Word.
Isaiah 46:10 –"Declaring the end from the beginning, And from ancient times things which have not been done, Saying, 'My purpose will be established, And I will accomplish all My good pleasure let me challenge you to read this again because it is important."
A lot is going on right now – some things are great; some are challenging and some stand in direct opposition to the will and the ways of God.
But as we enter the real world once again, we should be careful that we do not get consumed with the latter. One of the things I want to continue to remind us of during 2022, is that God is in control, and He is ensuring that all things are continuing to unfold in the direction He purposed them to take. His will is going to be achieved despite the threats; erroneous claims of power and authority by various rulers and leaders; and the constant arrogant and atheistic viewpoint that claims humanity rules and reigns over planet earth and that our actions are slowly destroying this planet.
Humanity does not have the ultimate power over this planet – either to improve it or destroy it. We are stewards, not owners. The claim that the fate of both this planet and all who dwell on it, are subject to humanity for life and sustenance, is a direct attack on the sovereignty of God and a clear expression of the fallen pride of humanity. It causes God, who sits in the heavens, to laugh (Psalm 2).
In a similar vein, the many silly attempts I heard on Christian television from far too many preachers over the break, was to reassure us that all is well because we will soon be raptured out of here, leaving those who don't know Jesus behind, where they will face a period of hell on earth with no chance of any reprieve. In the meantime, if we give financially to these preachers' cause, that will help more of these poor souls to get saved.
Probably the worst, yet most humorous, for me anyway, was the comment from a well-known preacher, that the reason why the Lord hasn't returned yet was that we were not giving enough to his and his friends' ministries – all of whom owned jet planes. He instructed us that if we were to open our purses a lot wider to them, the Lord would say to Jesus "go get 'em son." I can understand if you don't believe me – but it is on the web for you to see for yourself.
So, coming back to reality, let me assure you that you won't be getting any such messages from us this year. We are on a mission to rebuild the ancient ruins; raise up the age-old foundations; repair the breaches and restore the streets in which to dwell.
Over the last couple of years, we have had to endure Covid-19 which has had a terrible impact on the world for all sorts of reasons – but as if that wasn't enough, as believers, we have also had to endure stories about bar codes being the mark of the beast, red-looking "blood moons"signifying the end, the discovery of a supposed red heifer for animal sacrifices in the rebuilt temple, and claim that beasts from the book of Revelation have been placed in front of the United Nations (this refers to some statues that don't line up with anything described in Daniel or Revelation).
I have books on my study that have studied predictions from more than one thousand years ago giving "watertight" predictions that we are about to get lifted off the planet. The dates have come and gone with no rapture, no rescue, and sadly, no repentance. Instead, new dates were set, and the silly game continues. The only thing that did and still does continue is God's call and God's work.
He continues to make it clear that we have work to do. Lots of it. To complete this work, we need to be constantly in worship, feed regularly from His Word, enjoy fellowship with one another, and embrace teaching, training, and instruction from trusted sources.
It is, as always, our goal at SRT to be a place where you can join with like-minded brothers and sisters in Christ, draw from the wellsprings of life that we believe God has provided for us and be about His business.
We look forward to you joining us in the wonderful privilege of serving God and our fellow human beings, in this manner.
Love and blessings – Bruce