Bulletin June 2022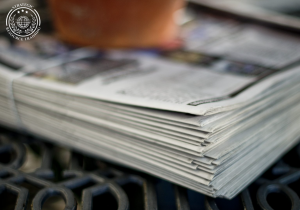 by Bruce Billington
The Battle Is Not Over Yet
Recently many of us were both shocked and delighted to hear that the U.S. Supreme court were in the process of overturning the Roe Vs Wade case which was the main power behind abortions being made available on demand – something that was imitated in so many different countries around the world. Whatever else people may think of the presidency of Donald Trump, it is him we have to thank for this by appointing three Supreme Court judges, all of whom were opposed to abortion. This has meant those sympathetic to the Christian cause have the majority in the Supreme Court justice department today. This may well mean we can hope for more pro Christian moves over time giving back some of the stolen Christian liberty that has been lost. What happens in the U.S. has a lot of influence on what follows elsewhere so we all have cause to rejoice.
However, the point I want to make in this article is that we should not look to our respective governments, institutions, organisations, and other such power bases, to produce a society that is conducive to the Christian way of life. We should celebrate every victory we get in those arenas, but the Scriptures deny that this is where righteousness will come from.
Listen to the Apostle Paul's comment on this from Ephesians 3.
"To me, the very least of all saints, this grace was given, to preach to the Gentiles the unfathomable riches of Christ, and to bring to light what is the administration of the mystery which for ages has been hidden in Godwho created all things; so that the manifold wisdom of God might now be made known through the church to the rulers and the authorities in the heavenly places. This was in accordance with the eternal purpose which He carried out in Christ Jesus our Lord,"
Paul is revealing right here that the purposes of God are going to be demonstrated to the rulers (earthly as well as heavenly) and to the authorities in heavenly places, through God's people – His bride – the church. This means the responsibility to be a demonstration of the Way of the Lord, sits squarely with all of those who are true followers of Christ.
For us to prevail in this call we are going to need such virtues as patience, humility, and perseverance as we strive to demonstrate ethics, morality, and love. We cannot and must not rely on our governments, the courts, and such organisations as United Nations and NATO. These are predominantly unredeemed organisations who pay no heed or respect to the Living God. They cannot produce what it is that God is seeking to implement on this planet, despite what good intentions they may have.
So, what should we be doing? Well, each of us has a different calling and commissioning from God, but in the wider context we need to understand that we can only effectively address the ills of our world through impacting the cultural and social institutions that we are all part of. This may require that we have to argue, debate, and stand up for what we believe in. We should do so with passion and conviction, but always making sure we go into such battles with God's love and grace. The verse in Colossians 4:6 is important here.
Let your speech always be with grace, as though seasoned with salt, so that you will know how you shouldrespond to each person.
Of course, as the Scriptures also make plain, this begins with us. Judgement begins at the household of God (1 Peter 4:17). We have to be able to resolve the conflicts within our own marriages, families, churches, places of employment, and also when we participate in civil government before the world will pay any heed to us. There is sufficient evidence out there in the Christian world today, to argue that there is room for improvement here.
Let's thank God for some of the amazing things that happen in all arenas of life. If it happens, the overturning of Roe Vs Wade is an example of this. But also let us never forget that it is us, the people of God, who are called to rebuild the ancient ruins; raise up the age-old foundations; be repairers of the breach, and the restorer of the streets in which to dwell (Isaiah 58:12).
God bless you.