Bulletin November 2022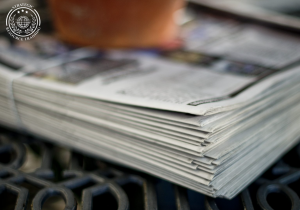 by Bruce Billington
One of the most popular pass times in the Western World today is to blame the government for everything. We constantly hear the following:
This government is out of their mind.
Why is the government allowing this?
Why hasn't the government fixed this?
The government is destroying this country.
There is a conspiracy behind this government.
This government is evil.
Now I am not going to launch a defence of any country's government here because, as voters, we have every right to express our opinion about our government – good, bad, or otherwise. In fact, that is one of the key ways that we decide who to vote for.
My concern is that as Christians, we are failing to recognise what is really going on at the root of all these systems and on this planet. The Bible reveals that in behind all such happenings in the world, is the ongoing struggle between the power of God, the powers of humanity, and the powers of Satan. The Apostle Paul speaks of this (Ephesians 6:12) and the book of Revelation concerns itself with this almost exclusively.
The first point we must settle once and for all, is that God is still sovereign and ruling from His throne. He is the king of universal events. Although it may be hard to see or understand, God is never dethroned, despite what any government may be doing. He will only tolerate disobedience to His ways for so long – both in people and institutions.
The second point we need to understand is that there is more than one level of meaning in human history. There is what we see on the surface and there is what is going on behind the scenes through the actions of principalities and powers. Our failure to understand this has often caused us to call a political leader evil, when they may well be influenced by evil powers, but they are not evil in themselves.
Evil is a word we should use very sparingly to describe any individual, because all persons are created in the image of God. No person is fully evil and to suggest they are, could be an indictment upon our God who created them.
The real problem we are dealing with, at the end of the day, is not faulty or inept governments, as frustrating as they are – the problem is the issue of sin and its root that is first found in the individual and the family unit.
The power of the State is not the source of the trouble – the true source is the evil impact of sin that influences and corrupts almost all societies and their governments from within.
Sin is the issue that all societies are struggling with. The book of Revelation, particularly chapters 13 and 17, talks about how the union between false religion and cultures, along with governmental corruption are ultimately intent on making war "against the Lamb."
Tragically, there are many initiatives in place or coming to be today, that have this as warfare as their goal, and amazingly, they even find support amongst some Christians. This is because we fail to see their true end goal, which is to make Christianity look outdated, irrelevant, and impotent, with the intention of completely disempowering it.
What things do I mean? Gay marriage; acceptance of multi-genders; sexual immorality; gambling, including buying lottery tickets; common use of blasphemy and profanity; support of liberalism under the guise of judging no one; dishonouring the aged; abortion and euthanasia; and on the list goes.
The spirit of Babylon is found in all these spheres until the Lord returns, they will continue to bring demise to humanity. As Christ's bride we certainly cannot afford to be part of them. As subtle as some may be, they all have one ultimate goal – to attack the throne of God, by disempowering His people on earth. This is what we should be exposing.
Jesus has been given the role of raising up an army against these things – which is, His church or bride. There is no neutral ground – we are either for Him or against Him. That is why the Apostle Paul states,
Happy is he who does not condemn himself in what he approves (Romans 14:22).
Of course, the first place we should look for sanctification is within ourselves. We are called to be a city set on a hill. We need to be the example of all that is right in society and life. Would Jesus have overturned many of the tables we are eating from today? Are we part of the corruption of society? Are we unwittingly supporting the demise of our societies? The Apostle Peter gives us a sobering warning about this.
1 Peter 4:17 – For it is time for judgment to begin with the household of God; and if it begins with us first, what will be the outcome for those who do not obey the gospel of God?
The world needs a clear demonstration of righteousness today. They should be able to look to us to see it.
God bless you.