Bulletin August 2021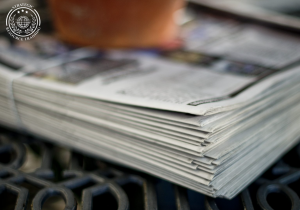 by Bruce Billington
Follow Me
Many years ago, I had the privileged of spending the day with a man in his 70s who had been ministering most of his adult life (and still going strong). I asked him a lot of questions and was rewarded with rich, in-depth answers. As we spoke he revealed an incredible journey of faith and a wonderful knowledge of the Scriptures and the power of the Holy Spirit. I then asked him, that, if He could sum up the Christian walk in a few sentences, what would he say? I was amazed when he said he could do it in two words!! Now, this really got my attention. Then he laid it on me.
The two words were from our Lord. They were, "Follow Me". We sat in silence for a while and then he told me there was nothing more to be said – this was the essence of the Gospel and if we obey this call, Jesus will lead us into an incredibly fruitful and adventurous life, but one that will have its share of suffering in it.
It cannot be done without stepping through the cross.
As we consider this, if we are going to live as true disciples of Jesus, we have to remember that all efforts of worth and excellence are really challenging. Oswald Chambers makes a great statement about this. He says, The Christian life is gloriously difficult, but its difficulty does not make us faint and cave in— it stirs us up to overcome. Do we appreciate the
miraculous salvation of Jesus Christ enough to be our utmost for His highest— our best for His glory?
As Western world Christians, we must refuse to buy into a cheap gospel that is mostly about us. It is a terrible depiction of Jesus and the Christian faith. Whenever we face a crisis we learn what it is that still lives in us that has not yet been surrendered to God. On the other hand, we will also find out that in whatever we face, Jesus stands steadfast with us, comforting us, strengthening us and building His life into us through the agency of the Holy Spirit.
Contrary to what many accuse us of, our journey with Him is not for sissies, wimps or cowards. It requires bravery, courage, and holiness. It tests us for all we are worth. The writer of Hebrews tells us that Jesus is "bringing many sons to glory" (Hebrews 2:10), and God will not shield us from the requirements of true sonship. Instead, we are told that, "All discipline for the moment seems not to be joyful, but sorrowful; yet to those who have been trained by it, afterwards, it yields the peaceful fruit of righteousness. (Hebrews 12:11).
We are also told that judgement begins at the household of God (1 Peter 4:17). We need to embrace the fact that God's grace produces men and women with a strong family likeness to Jesus Christ, not pampered, spoiled weaklings. It takes a tremendous amount of discipline to live the worthy and excellent life that Jesus has called us to in the realities of life. And it is always necessary for us to commit to living a life of worth and excellence.
It is into this realm that Jesus calls to us and says "Follow Me."Some may want to reconsider this all over again, but I don't.
Throughout our journey, my friends and I have discovered that God truly is a rewarder of those who seek Him and that we have no "back" to go to anymore. Some of us are getting a little older and looking a little worse for wear, but when we get together our common conversation is "I count all things to be loss in view of the surpassing value of knowing Christ Jesus my Lord, for whom I have suffered the loss of all things, and count them but rubbish so that I may gain Christ," (Philippians 3:8).
When we all awake tomorrow morning, the call is going to go out again. "Follow Me". May I encourage you to put yourself in a place where you have no choice? All the bridges behind you are burnt and the way forward is impossible without Him. You can only place your hand in His and enter a new day.
God bless you.
Bruce Billington